The importance of partnership and people for research in the Congo Basin [March 2020]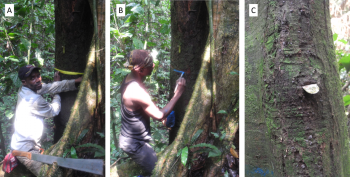 The Congo Basin Forest is the second largest rainforest in the world. It's critical role in climate change mitigation is undisputed albeit precarious. This was highlighted by the 2020 paper by Hubau et al. in Nature, which indicated a long-term future decline in the African sink capacity, overshadowed only by an even more rapid decline in the Amazon.
Research carried out in the Congo Basin Forest is paramount for our understanding of global carbon dynamics. The insight we gain, will lead to the adoption of forest management and policy guidelines. Such progress is dependant on years, often decades, of field work. In The Conversation, Wannes Hubau and colleagues describe the quest for reliable data in the depths of the Congo Basin Forest. 
Field work is made possible through dedicated teamwork. Teams of international researchers work together with local researchers, technicians and village guides. Permits are issued by national governments, but permission to enter the forest is ultimately granted by the local villages who are dependant on the forest for their livelihoods and wellbeing.
Research carried out in the PilotMAB project is supported and enabled by a close collaboration with the CIFOR FORETS project (FOrmation Recherche et Environnement dans la TShopo), UGent (CAVElab and ISOFYS), Botanic Garden Meise, R&SD, VVOB, WWF, and local institutes such as Centre de Surveillance de la Biodiversité (Kisangani), INERA, ERAIFT and UNIKIS.
2020-09-10
–